Telecommunications and IT business are the most attractive areas where you can earn money. This is explained because everyone begin to use their cell phones everyday and everywhere. It is rather hard to find a person who would not use cell phone, it is like seeing an unicorn.
Why GSM termination business?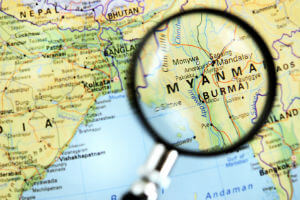 One of the most profitable businesses in telecommunications that does not demands huge investments and is affordable almost to anyone is GSM termination business. With this kind of activity you will have a fantastic opportunity to get money. Probably you are asking yourself now, what kind of business it is? GSM termination It's a part of process which delivers international call. If you want to get good profit, you have to use the GSM gateway and Simbox and consider to do GSM termination in Myanmar.
Why Myanmar is profitable country to terminate at?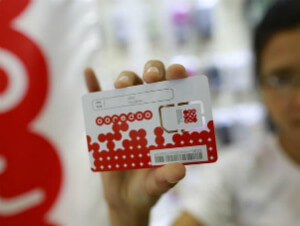 Here are the some facts:
As of June 2015, Myanmar has a mobile phone penetration rate of 54.6%, up from less than 10% in 2012. According to this statistics it will grow rapidly in future.
Price of international traffic for Ooradeoo GSM operator is about 0.03 USD per minute.
The best choice for termination in Myanmar will be Ooradeoo GSM operator. It's the major national GSM operator by the amount of subscribers and has low cost for on-net calls.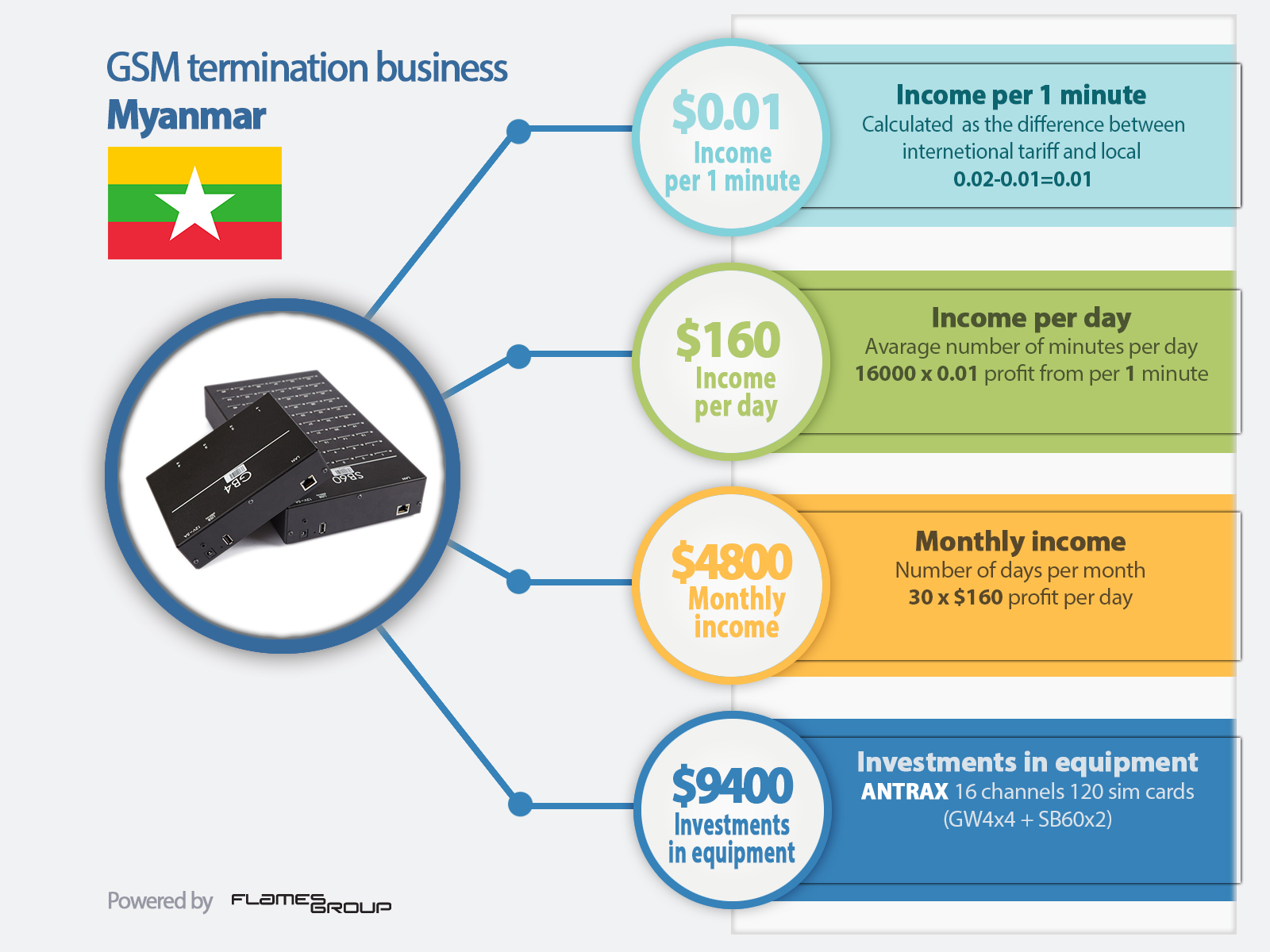 What will be Your income in GSM termination in Myanmar.
| ITEM | COST, USD |
| --- | --- |
| LOCAL COST (Ooradeoo, tarriff "Talky Pack"), minute | 0.01$ |
| ROUTE COST (to Myanmar) | 0.02$ MIN |
| INCOME (difference between local cost and route cost) | 0.01$ MIN |
| INCOME (average turnover), MONTHLY (average) | up to 5000$ |
| ONE-TIME INVESTMENT (package of equipment and software) | 9400$ |

Conditions to get the profit in Myanmar mentioned above:
GSM termination hardware must have 100% quality warranty with software package created specially for GSM termination in Myanmar. This will allow you to avoid wasting time for fixing bugs of disparity.
The project must be implemented with highest level of security:
System administrator with initial knowledges of Linux OS is highly recommended
GSM termination software has the most actual set of features to protect your SIMs from anti FRAUD systems in Myanmar. The most preferable is to have solution directly from vendor with professional level of support, because only in this case you can get the latest updates ASAP.
Possibility to purchase Ooradeoo SIM-cards easily
Stable synchronous Internet connection with bandwidth 4 Mbit/sec
Stable Electricity connection (UPS usage is preferable)
Finally you should have bank account in USD currency.
You can easily count your estimated profit with 32 channels system. You can transmit at minimal 10 000 minutes per day. If you're interested how to make $150 of pure profit in Myanmar every day, please, contact one of our telecommunication experts and get personal consultation!
Read our the most popular posts about GSM termination business:
What is GSM termination: a profitable business, fraud, or the good mission?
How to start profitable VoIP GSM termination business?
Choosing Anti SIM Blocking Solution for Call Termination
GSM termination security: calmness for business owner and stable income
Was this information useful? Share the business idea with your friends!