We've browsed internet and found resources about VoIP business opportunities in Kenya. This is a great start to get what is simboxing in Kenya looks like.

Officials say about simboxing activity
"NAIROBI: Kenya could be losing about Sh40 million in month to SIM Box fraud, a fairly new form of crime where international calls are routed as local calls. Former South Africa President Thabo Mbeki recently told the African Union Summit that the fraud was prevalent, affecting both service providers and governments."
Read Full article at standardmedia.co.ke >
---
SIM Box Fraud: GOVT. LOSES $150MILLION YEARLY
"Two years back the Kenyan government and operators lost 12 to 15 million minutes worth of revenue to this SIM box fraud. This is approximately US$440,000 per month."
Read Full article at standardtimespress.org >
---
Educational article about simboxing activity
"In this scenario, the interconnect operator C undercuts the market interconnect rates and offers cheap rates by spoofing quality. The GSM operator in Uganda (Network X) is cheated of charging the call at premium international rates but rather gets local rates or even earns nothing (if already purchased voice bundles are utilized). The government is also cheated of the USD $9 charged on international calls per minute."
Read Full article at androidkenya.com >
---
What Kenyans say about VoIP activity
The simboxing activity raised interest in this business and while some people condemned this activity, others greet it. Why? This make calls less expensive and possibility to make money for smart guys.
"The government has failed the young educated majority of citizens by not creating gainful employment opportunities kazi ni kuiba the little resources from the hard working taxpayers left, right and centre."
Read Full article at kenyatalk.com >
---
Some unsafe terminators are arrested because of using primitive tools
"30,000 SIM cards, 240 iPhones, 150 MI phones, 2 laptops, 2 inverters & other electrical appliances were recovered"
Read Full article at capitalfm.co.ke >
---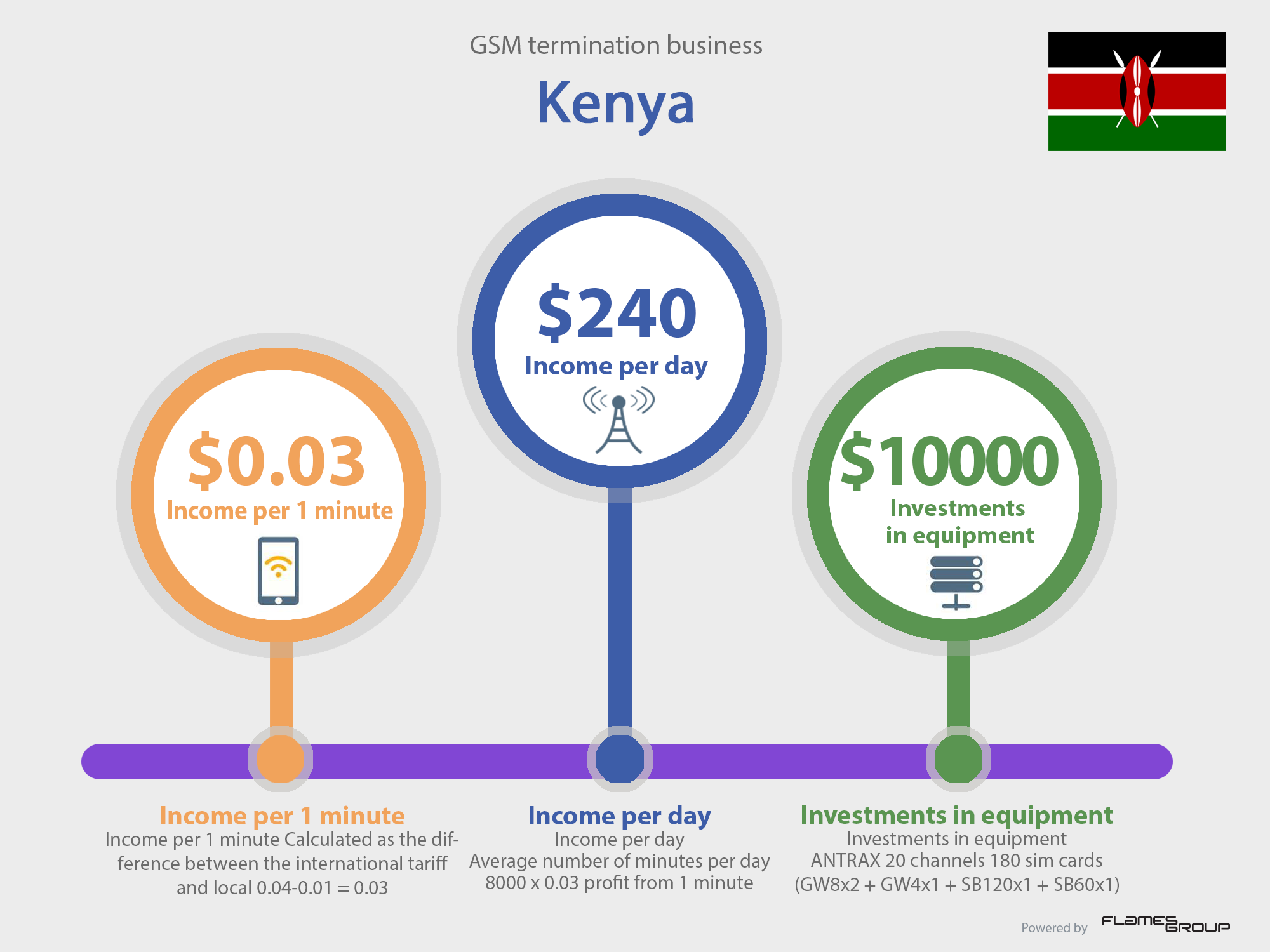 Video: Kenyan simboxing
Video: Unsuccessful cases of simboxers with lack of security
---
---
Another articles about Kenya
SIM boxing in Kenya – make money on GSM termination
SMS termination in Kenya – bulk SMS sending business
TOP 4 profitable destinations for GSM termination business