Wondering what telecommunications and VoIP GSM termination are? Looking for a reliable startup to invest into? – Visit our FREE webinars to learn more about the field, its features, benefits, and risks!

Sounds difficult? – Easy with us!

Together we will discover the main features of the field, and learn some of the latest and most important tips for being a successful GSM terminator. Such as "What is GSM network and VoIP", "How can YOU make money in the telecommunications industry", "Smart anti-antifraud management", "How to resist IMSI catchers with ANTRAX" and others.
Our 1-hour webinars are designed for either beginners or professionals; some of them will be useful for the technical support specialists as well.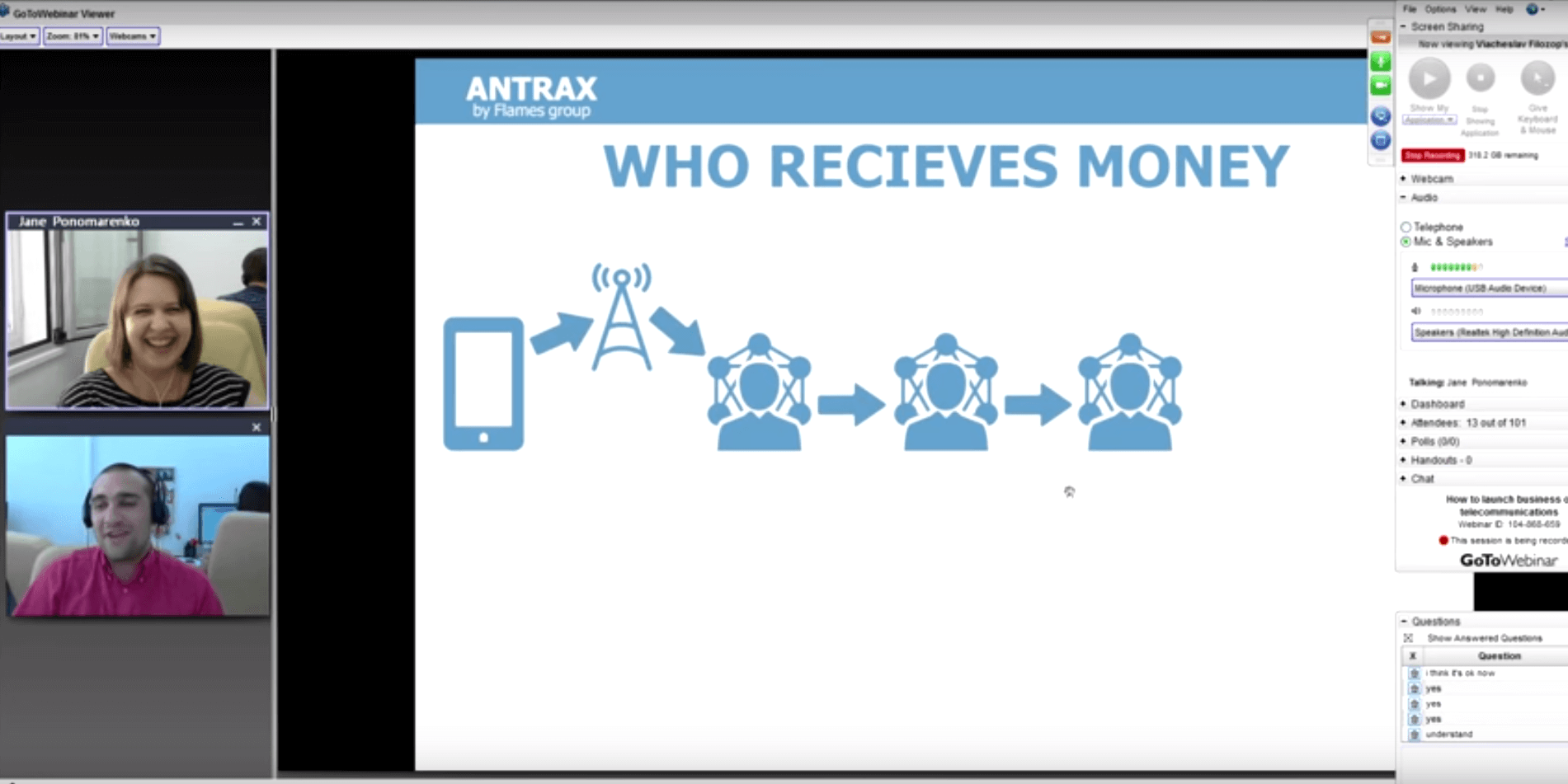 Webinar participants receive:
essential knowledge in the field of telecommunications and VoIP GSM termination;
the opportunity to ask an unlimited number of questions to ANTRAX specialist;
information about the best industry solutions.
Why Flames Group? – Features of the webinar:
free business consulting;
free video recording of the webinar;
by the end of the webinar, we will reward each of our participants with a unique present.
Our speakers – leading ANTRAX specialists of technical, trade and marketing departments.
Remember, ANTRAX webinars are 100% free, but space is limited so you must register to be guaranteed a seat!
How to enter a live webinar?
First of all, you need to click on the link that you received by Email.
Then fill out marked fields with your contact details.
If you didn't see anything, click the button "START THE BROADCAST".
After this, you will see a live session of the webinar. If you have any problems – click the button "Reconnect". Everything must be perfect!
If there are any issues with your internet connection – don't panic! We'll send a recording of this amazing webinar to your email the following day.
Enjoy the webinar from our skilled experts!

About the company
 Flames Group – large voice traffic operator with the headquarters in Riga – produces high-quality GSM termination equipment under the TM "ANTRAX". Founded in 2005, Flames Group SIA provides cost-saving solutions and resolves business challenges of its clients in the Central and Eastern European markets for over ten years.
As of 2015, ANTRAX equipment is being successfully used by GSM terminators, call-centers and corporate clients on five continents.
Flames Group operates on a level of high European quality and reliable service while enhancing the competitive advantage of its solutions. Our business is always customer responsive and constant delivering value to our clients. Focusing on customers, sustain growth and innovation we are committed to becoming a leader in the call termination market.
Participator's comments
Sunday, Nigeria:
"I have recently participated in the webinar "What you need to become a successful GSM terminator. First steps" by ANTRAX and I want to thank them for the information I've learned. I now have a whole understanding of the industry and the steps I need to make to star call termination business in the nearest time".
Chibuzor, Congo:
"Hi! I have a successful GSM and SMS termination business here in Russia. Attending webinar by ANTRAX allowed me to get more profit by improving our SMS blocking system. The idea of using grey and black lists really helped. Thanks!".
Joseph, Kenya:
"Webinar was fine. The best part, as for me, is the possibility to get answers to the urgent questions. The answers are provided by the operating specialists".